Dear All,
It has been some time since my latest newsletter.
I would like to let you know, a little proud, that some of my works are published in "Best of Worldwide oil Artists" volume one published by Kennedy Publishing, U.S.. You will find the pictures and more information on my website www.deruiter-hooykaas.com under publications.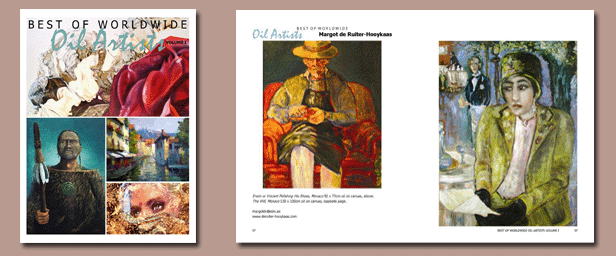 View flipbook (check pages 57-58)
At the same time pictures and text has been sent to the Netherlands to prepare for the new Artguide/Kunstgids 2011.
An example of the Artguide 2010 you will find on my website www.deruiter-hooykaas.com also under publications.
In the month of March a set of silkscreens has been donated for charity to the JPS School Dubai Springfair. Proceeds will go to "Make a wish".
I hope I will be able to present some new paintings in my next Newsletter to you.
All best wishes for now.
Margot de Ruiter-Hooykaas
www.deruiter-hooykaas.com