Dear All,
Just to let you know about the latest Art guide/Kunstgids 2011. It all looks beautiful again as all the former years. They have made some additional changes like seeing the art works of some artists on line at www.fransastic.com. You can have a look at my works under de R or H. This guide is a beautiful (international English/Dutch) gift to everyone who likes ART!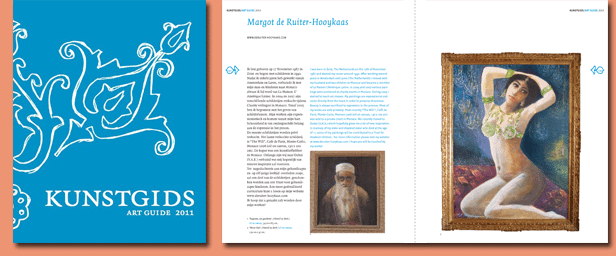 (pages 132-133)
Guides are available now in all major bookstores (Libris, Selexnyz, gift shops and online shops) in The Netherlands. You can also order online at info@fransastic.com or francine@fransastic.com (Media productions, Verlengde Slotlaan 32-39, Zeist, The Netherlands / +31 (0)6 46 34 20 66).
This time some Locally (Dubai) made oil paintings at my Newsletter to give you a feel of our lives here in the U.A.E.
Boy from Oman, Ragman our gardener and Mata Hari (inspired by Sylvia Kristel). You will find these works at the Oriental Gallery of my website www.deruiter-hooykaas.com if you are interested you may find a pricelist as well. Please note that all proceeds still go to my fund for charity and hope we can do some work together with our children in the future.
At present I work on a painting with Spanish influences (not too far away from Arabic influences), inspired by a Spanish friend who married this year… I will keep you updated on my progress.
With my very best wishes,
Margot de Ruiter-Hooykaas
www.deruiter-hooykaas.com