Dear All, Dear Art friends,
First of all I would like to give you my warm best creative wishes for 2012!
With a fresh start in the New Year I would like to give you an update on my art and my latest painting "Our Iranian grocery store" (oil on canvas, 116x89cm, Dubai, 2012). You can have a more detailed look at it on my website, in the "Oriental Gallery".
It has been a hectic year but also one with great oppurtunities and new inspiration.
I started working one day a week as a volunteer at Mawaheb (www.mawaheb-dubai.com) in the Bastakiya area in Dubai. It is an amazingly beautiful projekt. Mawaheb (which means talented in Arabic) is an art sudio for young adults with special needs. You can visit the studio on working hours during the week.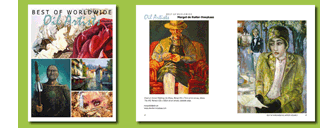 Furthermore I will have to decide on some requests for publicity in Dutch and International Art books which is of course seen as a compliment but still has not my priority.
You can still order the Artguide/Kunstgids 2011 online at www.fransastic.com pages showing my work are 132-133, or Best of Worldwide oil artists page 57-58.
I will keep you updated on my painting progress over the year.
Warm regards,
Margot de Ruiter-Hooykaas
www.deruiter-hooykaas.com