Dear Art friends, Dear All,
In this Autumn Newsletter I would like to give you an update on my latest painting "Sabahat" nr 2 of the Beautiful People series and some exiting other art news I would like to share with you.
You can have a more detailed view of the painting on my website in the Oriental Gallery. In time I will add a new gallery dedicated to the Beautiful People Project.
• Three silk screens have been auctioned in Pretoria last month for a charitable event www.peas-in-a-pod.org (a beautiful initiative by Dr. Annali Swanepoel please do have a look at the website for donation details) at the beautiful Illyria house (www.illyriahouse.com) were we have summer memories.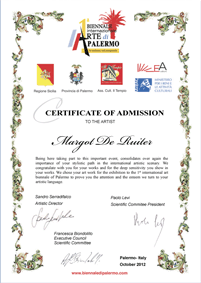 • This month the New Monaco art Magazine (www.artmonacomagazine.com) will be released and you will find my work Girl in Kimono.
• As every year there will be a new Art Guide/Kunstgids 2013 (www.fransastic.com) and my beautiful People Series will be presented in this beautiful guide.
• I m really proud to let you know that I received an official invitation and certificate of admission for the first Biennale of Palermo - Italy (www.biennaledipalermo.com).
At present I m working at nr 3 of the Beautiful People series "Zara" who is my dearest friends daughter. This is very challenging as I hope to please her immensely with the outcome.
I will keep you updated on my progress.
With my best wishes,
Margot de Ruiter-Hooykaas
www.deruiter-hooykaas.com